ELS SERIES

---
FEATURES

This ELS series is sensitive and complete level sensor with float.
It can be widely used for simple control function effectively in the level control.
The screw thread M81.25 enables a quick and reliable mounting to the position you need.
The different length of PVC wire (22 AWG) is available.
SPECIFICATIONS

Contact Rating:
| | |
| --- | --- |
| Switching Current | 1.0 ADC Max. |
| Carry Current | 1.5 ADC Max. |
| Switching Power | 10 VA Max. |
| Contact Resistance | 150 m Max. |
| Contact Material | Rhodium |
| Operate Time | 0.6ms Max. Including Bounce Time |
| Release Time | 0.1ms Max. |
| Maximum Voltage | 100 VDC |
| Breakdown Voltage | 250 VDC |
| Ambient Temperature | 0 to +70 |
| Operation Level(Gravity) | see Actuation Drawing |

Materials
| | |
| --- | --- |
| Stem | Polyamide |
| Float | Polypropylene Foam |
| Nut | Polyamide |
| Stopper | Polyamide |
| O-ring | Rubber |
| Lead Wire | UL 1007 22 AWG Heat-resistant PVC wire |
PART NUMBERING SYSTEM
  ELS  103  XX
   |    |    |
   |    |    +---- 00: Standard length of lead wire 70mm
   |    |          Option: for different length of lead wire
   |    |
   |    +--------- Type: 103 see ELS ACTUATION
   |                     104 see ELS ACTUATION
   |
   +-------------- Series Name: ELS: level sensor
DIMENSIONS: UNIT:mm(inch)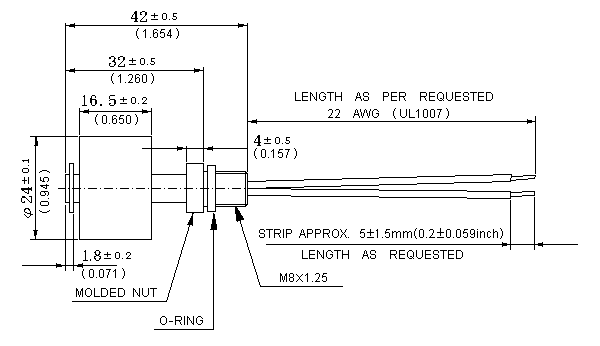 ACTUATION