High Current Multilayer Chip Beads
EFP SERIES


---

Features
These high current Beads do not require wiring, with minimum capacity and lower DC resistance characteristic, they are designed to eliminate EMI for electrical equipment power line use.
Available in high current which up to 6A.
Closed magnetic circuit avoids crosstalk, suitable for high density PCB.
Excellent for high current applications such as power supplies, Industrial equipment, OA products, communication products, etc..

Part Numbering System
 EFP  321611   H   310       
 ---  ------  ---  ---  ---  --- 
  |     |      |    |    |    |
  |     |      |    |    |    +--- Endurance current: A,B 
  |     |      |    |    |
  |     |      |    |    +-------- Packaging:
  |     |      |    |              1:tape and 7" reel;
  |     |      |    |              2:tape and 13" reel;
  |     |      |    |              3:bulk
  |     |      |    |
  |     |      |    +------------- Impedance:31 
  |     |      |
  |     |      +------------------ Material Type:
  |     |                          H:High speed signal line use
  |     |                          L:General signal line use
  |     |
  |     +------------------------- Dimensions:
  |                                Length(mm)Width(mm)Thickness(mm)
  |
  +------------------------------- Product Name:
                                   High Current Multilayer Chip Beads
   

Dimensions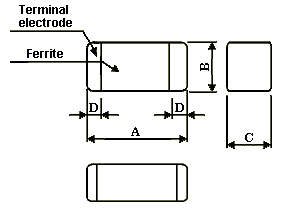 | | | | | |
| --- | --- | --- | --- | --- |
| Type | A.2(.008) | B.2(.008) | C.2(.008) | D.3(.012) |
| EFP 321611 | 3.2 (.126 ) | 1.6 ( .063 ) | 1.1 ( .043 ) | 0.5 ( .020 ) |
| EFP 321616 | 3.2 (.126 ) | 1.6 ( .063 ) | 1.6 ( .063 ) | 0.5 ( .020 ) |
| EFP 451616 | 4.5 (.177 ) | 1.6 ( .063 ) | 1.6 ( .063 ) | 0.5 ( .020 ) |
| EFP 453215 | 4.5 (.177 ) | 3.2 ( .126 ) | 1.5 ( .059 ) | 0.5 ( .020 ) |

Electrical Characteristics (Type: 321611, 321616, 451616, 453215)
Part No.

Test Frequency
(MHz)

Impedance
()

DC Resistance
()Max.

Rating Current
(mA)Max.

EFP 321611L310 A

100

3125%

0.04

3000

EFP 321611L520 A

100

5225%

0.05

3000

EFP 321616L500 B

100

5025%

0.02

6000

EFP 321616L700 A

100

7025%

0.05

3000

EFP 451616L600 A

100

6025%

0.04

3000

EFP 451616L600 B

100

6025%

0.02

6000

EFP 451616L800 A

100

8025%

0.10

1500

EFP 453215L121 B

100

12025%

0.02

6000

EFP 453215L132 B

50

130025%

0.05

6000
| | |
| --- | --- |
| EFP 321611L310A | EFP 321611L520A |
| | |
| Frequency (MHz) | Frequency (MHz) |
| EFP 321616L500B | EFP 321616L700A |
| | |
| Frequency (MHz) | Frequency (MHz) |
| EFP 451616L600A | EFP 451616L600B |
| | |
| Frequency (MHz) | Frequency (MHz) |
| EFP 451616L800A | EFP 453215L121B |
| | |
| Frequency (MHz) | Frequency (MHz) |
| EFP 453215L132B | |
| | |
| Frequency (MHz) | |