Mini USB CONNECTOR & CABLE
ESB 3,4,5 SERIES


---
PATENT NO. :

139315
148380
ZL97250960.7 (CHINA)
ZL97243965.X(CHINA)
FEATURES
Ultra-small size achieved universal series bus connector and cable.
Both 4Pin type and 5Pin (One ID pin) type are 0.8mm pitch.
4Pin type is full compliant with current USB 1.0 specifications.
5Pin type is full compliant with current USB 2.0 specifications.
Receptacle and plug housing are UL 94V-0 grade fire retardant.
Gold plated contact ensure low contact resistance.
To make sure your connections are perfect every time.
EMI protection by shielding features.
Ideal for connecting portable PCs as slim notebook PCs and handheld PCs to small, slim peripheral equipment (digital cameras, small mouse, PDA, MP3, Hub etc.).
SPECIFICATIONS
ESB3 SERIES (MINI TYPE)

ELECTRICAL

MECHANICAL

Voltage rating
30 VAC(rms)
Durability
1500 cycles
Current rating
1 Amp
Mating force
35N Max.
Contact resistance
50 m Max.
Unmating force
2.9N Min.
Insulation resistance
100 M Min.
---
---
Dielectric strength
100 VAC Min.
PART NUMBERING SYSTEM (FOR CONNECTOR)
ESB 3 X X X X X X X
| | | | | | | | |
| | | | | | | | +----------- Special Code
| | | | | | | +---------- 0:Standard
| | | | | | | 1:No ECE Mark
| | | | | | +--------- Terminal Type: 0:SMT TYPE
| | | | | +-------- Terminal Pole: 0:4 Pin
| | | | | 1:5 Pin
| | | | +------- Color: 0:Black
| | | +------ Port Type: 1:Single Port
| | +----- Setting: 3:A Type (for 4pin only)
| | 4:B Type (for 4pin & 5pin both)
| | 5:C Type (for 5pin only)
| +--- Contact Type: 3:Mini USB Connector
+-- Model Name: ESB Series
PART NUMBERING SYSTEM (FOR CABLE)
ESB X X X X X X X X
| | | | | | | | |
| | | | | | | | +----------- Special Code
| | | | | | | +---------- Certificate:
| | | | | | | 0:UL CM TYPE
| | | | | | | 1:UL 2725
| | | | | | +--------- Colour:
| | | | | | 0:White Frost 1:Gray
| | | | | | 2:Ivory 3:Black 4:Beige
| | | | | +-------- Rating:
| | | | | 0:Full-Rate Channel
| | | | | 1:Sub-Rate Channel
| | | | +------- Wire Gauge:
| | | | 88:AWG 28/28 68:AWG 26/28
| | | | 48:AWG 24/28 28:AWG 22/28
| | | | 08:AWG 20/28
| | | +------ Cable Length:
| | | 10:1.0M 18:1.8M 20:2.0M
| | | 30:3.0M 50:5.0M
| | +------ Setting:
| | 1:A+Free type 6:A+housing
| | 2:B+Free type 7:B+housing
| | 3:A+B type 8:Socket+housing
| | 4:A+A type 9:Plug+housing
| | 5:B+B type A:Big A+Mini B
| +--- Type:
| 4:Mini USB Cable (4pin)
| 5:Mini USB Cable (5pin)
+-- Model Name: ESB Series
DIMENSIONS (UNIT: mm)

A TYPE CONNECTOR (4PIN)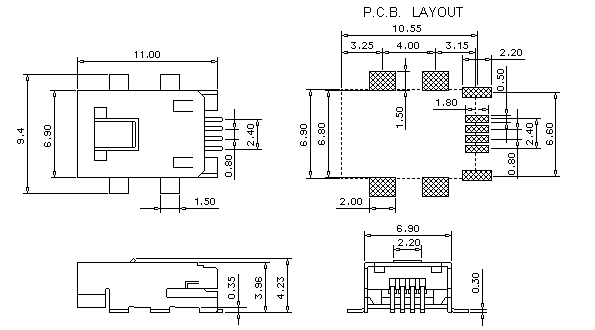 B TYPE CONNECTOR (4PIN)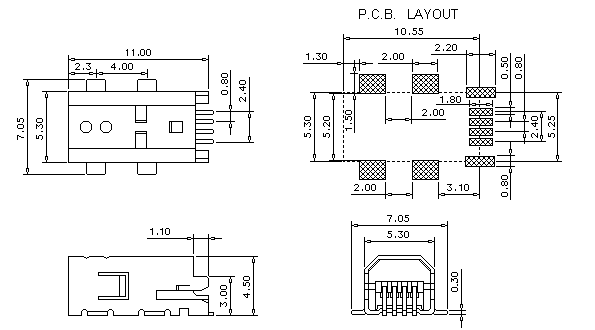 B TYPE CONNECTOR (5PIN)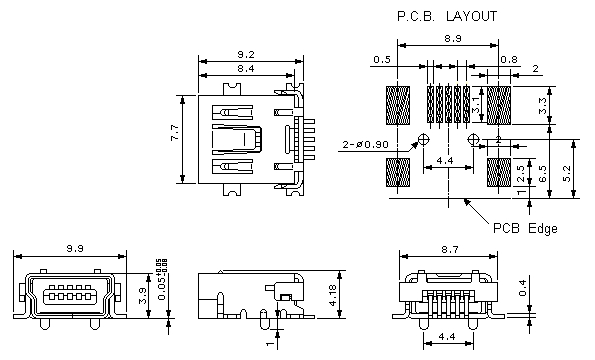 C TYPE CONNECTOR (5PIN)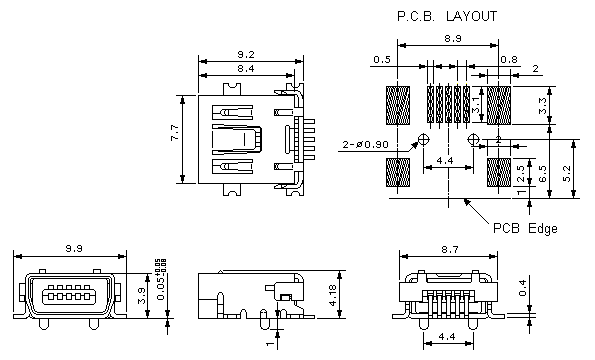 MINI USB A TYPE CABLE (4PIN)


MINI USB B TYPE CABLE (4PIN)


MINI USB B & C TYPE CABLE (5PIN)